I must apologize for once again reduxing a prior Saturday Surprise post, but I am thoroughly exhausted this evening and my brain just isn't coming up with any new material!  Still, I think you'll enjoy this one from September 2018!
---
Hello friends!  Thanks for dropping by before starting your weekend!  Today is the first day of September already!  Can you believe it?  Where has this year gone?  Here in the U.S., it is a 3-day weekend, for Monday is Labour Day.  My Iraqi friends asked me last week, "What is this Labour Day", and I had to explain that while it was once a day to honour the working people, now it is pretty much just an excuse for a beer-fest.  Then, of course, I was left to explain "beer-fest" to people for whom alcohol is forbidden.  I fall into these traps often … you'd think I would learn, yes?
I know you all have big weekend plans, but I am still taking you on a short journey today … I promise to have you back in plenty of time to carry on with all your weekend plans, but this is just the perfect weekend to make this little jaunt!  Well … actually it's not all that perfect, because where we are going is to be rainy and the high temps only around 55° F, or 10° C.  But still … we'll have fun, I promise.  We can pick up some light jackets along the way … apparently the heat wave missed Iceland.  Oh … didn't I tell you?  Yes, we are traveling to Iceland!
What do you mean, "Why on earth are we going to Iceland?"  We are going to Iceland to see … PUFFINS!!!  You know … puffins … cute little birds … look sort of like miniature penguins?  Oh, c'mon … it'll be fun … just hope onto the Filo-mobile and let's go!
The puffin population in Iceland has been decreasing in recent years.  Though some puffin colonies are prospering, in Iceland, where the largest population of Atlantic puffins is found, their numbers have dropped from roughly seven million individuals to about 5.4 million.  The reasons are many:  fickle prey, overfishing, pollution, and climate change, which is diminishing food supplies like the silvery sand eels, which dangle from the parents' beaks as they bring them to their young.  In addition, since they are considered to be very tasty, they are hunted as game birds.  No, we will not be trying them!
We have arrived, so let us check out some puffins, shall we?
The puffin is not the official bird of Iceland – that would be the gyrfalcon.  But puffins get far more attention, especially from tourists.  Did you know that puffins are only on land for about four months a year?  Right … they will soon be taking themselves back out into the cold Atlantic sea, where they will spend the next eight months or so hunting for fish.  They really only return to land in the spring in order to mate and nest.
Puffins choose partners for life, and while on land, they even share parenting duties, but once they go back out to sea, they go their separate ways until next spring.  I'm pretty sure that is the male's idea.
Puffins are great little swimmers and divers, but when it comes to flying … meh, not so great.  So, watching them take off and land is rather hilarious!
And did you know that their gorgeous, colourful beaks aren't always so colourful?  Puffins molt during their time at sea and shed all the colourful portions of their beaks as well as the black markings around their eyes in the process.
The joint of their beaks are notched so that the birds can hang on to their catch even while diving back in, open-mouthed for more. One little puffin can carry up to 10 fish in its muzzle at any one time!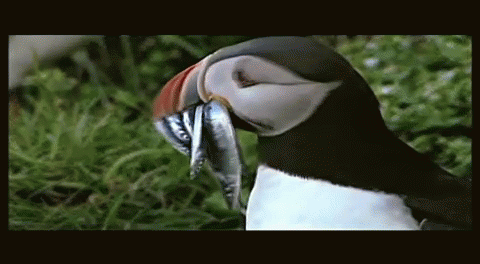 Okay, folks … it's getting downright chilly here, and the rain has soaked through to the skin, so I think it's time to bid adieu to the puffins.
Before we head back home, though, there is one last stop I want to make.
Welcome to Akureyri, home of the giant beer can! 
From 1915-1989, beer was banned in Iceland. Although it seems completely counter-intuitive compared to the image of the beer and mead-swilling Viking sailor, the malted beverage was outlawed for most of the 20th century. Today, Iceland has begun to embrace the drink, and a giant beer can at the Viking brewery in Akureyri marks that change.
Stand over there … facing the beer can, to the left, near the corner of the building.  See that pipe?  No, no, no Joe … do NOT drink what's coming out of the pipe … they say it isn't potable, but its sole purpose is to add a nice beer smell to the area.  Okay guys … I'm ready to head home now, where the temps should be in the high 70s and the ice in my hair can melt!
Whew … this is better!  Okay, folks … keep safe and have a great time this weekend!
---
I was reading the comments that were left when I first posted this nearly 4 years ago, and a few of them noted other places — warmer and closer — to see Puffins:
Ellen:  Cap'n Fish's Puffin Cruises in Boothbay Harbor, Maine is an experience that is not to be missed. They are a family operation, now in the third generation. There are several other cruises as well, but Cap'n is our favorite.
Hugh: By the by, Nufundland also has large Puffin colonies if a person doesn't want to leave dry land!
David:  If you'd come in this direction you'd have found Puffin Island just off the coast of Ynys Mon (Anglesey) (Wales)
Colette:  We have Puffins off the Northern coasts of The British Isles too Jill!