This election cycle is unique in so many ways, but one thing that disturbs me is watching the Republicans literally 'eat their own'. If one doesn't fully go along with the 'party line', which is whatever the former guy says it is, then they will receive no support, will be vilified and likely fade into political obscurity. Meanwhile, folk like Marge Greene and Herschel Walker will step in to further downgrade the GOP. Our friend Keith's post today shows us an example of that and a hint of where it might lead. Thank you, Keith!
musingsofanoldfart
In an article called "Ousted Republican reflects on Trump, democracy and America: 'The place has lost its mind'" by Ed Pilkington of The Guardian, long-time Republican Rusty Bowers reflects on his actions that led to his failure to win reelection in the GOP primary. Who is Bowers?
Per the article, "Rusty Bowers was speaker of Arizona's house of representatives when he stood up to the former president's demand that he overturn the election result. He paid the price but has no regrets.
Rusty Bowers is headed for the exit. After 18 years as anArizonalawmaker, the past four as speaker of the state's house of representatives, he has been unceremoniously shown the door by his own Republican party.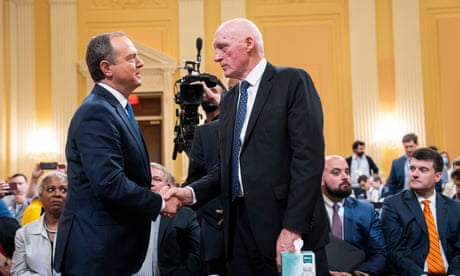 Last monthhe lost his bidto stay in the Arizona legislature in a primary contest in which his opponent was endorsed by Donald Trump. The rival, David Farnsworth, made an…
View original post 415 more words